Product Description: Sharpeye Testablity Analysis
SHARPEYE software automatically analyzes digital logic designs and reports testability problems in a clear easy-to-read format. Users can improve design testability and eliminate costly testability-related problems in manufacturing.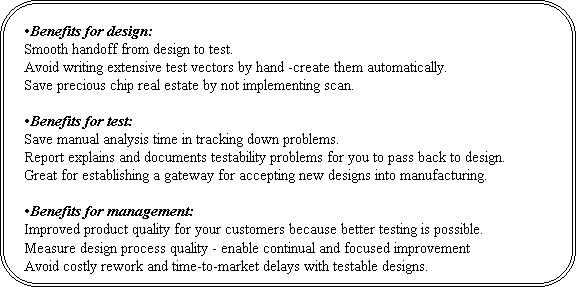 Clear, usable explanations
SHARPEYE software reports problem circuit structures in a way designers and test engineers can understand. If it takes too many clock cycles to set a flip-flop high, it says so, and reports the name of the flip-flop and its estimate of the number of clock cycles. If there is a one-shot or oscillator, it calls it out by name. SHARPEYE hits the mark for dozens of unique testability checks.
Customizable
Users can specify which items to check and which to ignore. Item names and explanatory text can be changed by users to match their nomenclature. As a result, SHARPEYE software can check a design against your testability criteria to fit into your company's process. This is important because SHARPEYE software does not force you to change your criteria, it just allows you to implement your criteria more smoothly. For example, there are many different in-circuit board test testability standards being used successfully in the world today, ranging from a dedicated common tri-state enable pin with pull-up resistor, to just requiring that bus pins be tri-statable. SHARPEYE software supports the entire range of testability standards.
For in-circuit board test
Nine independent testability items can be selected in a wide variety of combinations to implement virtually any digital guarding/disabling methodology.
For high fault coverage ATPG
A wide variety of fault coverage-related testability items can be checked, encompassing oscillators, one-shots, resets, clocks, initialization, sequential depth, etc. Select the items that correspond to the limits of your ATPG software so that SHARPEYE software can prescreen for any problems before you invest in a long ATPG run.
Easy to use
All options selectable from menu/fill-in-the-form interface. Simple batch file interface included for automated environments.
SHARPEYE Device Support
SHARPEYE software, licensed as a Stand-alone or Base Product, includes one device model
family/format (choice at time of purchase). Additional device support may be licensed as Add-on Products. Device support families include:
Actel .ADL/.AFL files (ACT-1, ACT-2, ACT-3)
Lattice .SIM files (1016, 1024, 1032, 1048)
Xilinx .XNF files (2000, 3000, 4000 and 7000)
Altera MAX (5000, 7000 and Flex)
AMD MACH (110 through 435, JEDEC-based)
JEDEC PLD Library (all JEDEC-based Acugen device models including MACH)
SHARPEYE software, purchased as an Add-on Product to an installed ATGEN vector generator, will work with all models licensed for use with that ATGEN installation, including any PLD, CPLD or FPGA models and/or packages.
Host computers
DOS PCs (386 or higher), OpenVMS VAX , SUN 4 OS , and HP9000/700 HP-UX .
Support included
1 year of telephone support and software updates.
Licensing
Current ACUGEN customers purchasing SHARPEYE as an Add-on Product are covered by the license signed regarding their BASE ATGEN Product.
For new customers: Signed ACUGEN End-user License. Parallel port key on DOS systems.

ATGEN and ACUGEN are registered trademarks and AAACT, AALCA, AAMAX, AALAT, AAQL, SHARPEYE & FASTpass are trademarks of ACUGEN Software, Inc. All other trademarks are the property of their respective holders.